The top four things every 20-year-old should know before buying a home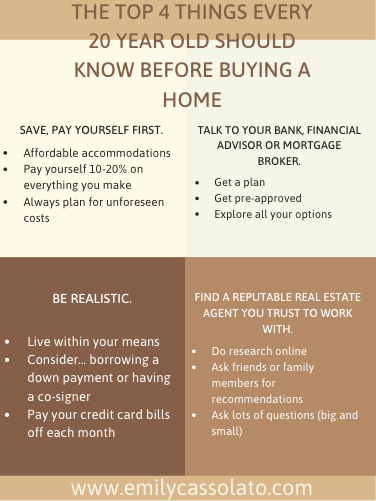 Picture this- you just turned 25, consistently contributed to your savings account monthly and found the dream home. Sounds like a good situation to be in, right? Before making an offer on that home, read these four things I tell all of my clients.
Save, pay yourself first:
If you have the means, live at home for as long as possible or in an affordable accommodation for a short period of time.
Pay all your bills while still paying yourself a minimum of 10%-20% on everything you make. To continue building equity, invest or put these savings into a high interest rate savings or TFSA account. I recommend a mix of both, a TFSA in Canada had an annual contribution limit of $6000 in 2020.
Any money you have left over can be spent on non-essentials or discretionary expenses. In other words- wants not needs. Some primary examples include, restaurants and entertainment costs. However, always plan your expenses for unforeseen costs that may arise.
Think of delayed gratification… Delayed gratification: the resistance to the temptation of an immediate pleasure in the hope of obtaining a valuable and long-lasting reward in the long-term.
Cut out unnecessary expenses and avoid luxury spending that don't retain value, for example, cars are perfect examples of a luxury purchase that depreciates value almost immediately and can have added costs that can impact your ability to buy a home or make loans payments.
Talk to your bank, financial advisor or mortgage broker:
Here are my top three tips:
●      Get a plan: build out a general idea on the type of property you want, will it be used for cash flow purposes and monitor the market to collect some research in the geographic areas you are interested in
●      Get pre-approved: have all the documentation needed so that once you find a home you can pull the trigger without hesitation.
●      Explore all your options: buy your own home, with partners or REIT (real estate investment trust). When you invest a lump sum of money, this money is invested with many people to be able to purchase property that is more substantial.
When buying a home at any stage or age in your life, being informed on mortgage interest rates may impact your purchasing decisions.
According to the Government of Canada, consider your mortgage term, your amortization and your interest rate, to name a few before making a decision on a mortgage that's right for you.
Be realistic:
Make sure you are living within your means according to the lifestyle you would like to maintain. Consider these options for getting into a property:
●      Borrow down payment if necessary or consider a co-signer
●      Pay your credit card bills off every month or make payments and establish good credit
Here are some questions to ask yourself:
What does your lifestyle look like? How stable and established is your career? What does your future like? Are you ready for the responsibility of being a homeowner- with sometimes unforeseen costs!
To expand, if your goals are centered around marriage and building a family, you may consider having your house accommodate for this- even if in the present moment your goals are different!
Find a reputable real estate agent you trust to work with:
Start with doing research online, what is their presence and is it aligned with your character? A bonus here is if you see happy reviews and positive experiences from past clients.
Use your network! Ask friends or family members for recommendations if they are familiar with a real estate agent or have personally worked with one for their own property purchases.
During that real estate search stage, if you find an individual that seems like a good fit- set up a time to chat. Ask lots of questions, both big and small.
Congratulations on thinking about this now and getting a head start on planning to purchase… the sooner you start the better!
P.S. check out my active listings to see if these properties fit your needs and budget ;)!